Chimney and Fireplace Services in the New Orleans Area
If you're looking for high-quality and personal service, you've come to the right place. A Noble Sweep Chimney Services in New Orleans will give you the attention and personal service you'll come to expect and enjoy. Formerly Village Sweep of Atlanta, we've relocated to the Greater New Orleans area.
With more than 30 years of experience in the industry, A Noble Sweep specializes in the complete care of your fireplace, wood burning stoves, furnace flues, dryer vents, gas logs repair and installation, and more.
We Make Your Home Safe
Your fireplace, chimney, and clothes dryer are among the most overlooked causes of fire and carbon monoxide poisoning in your home. We are dedicated to making your home as safe as possible by eliminating these serious issues.
While not all fires are preventable, most chimney fires are. So take action now to prevent fires and to burn wood efficiently.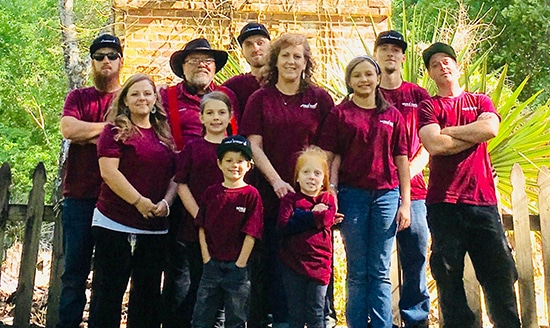 Overall, we help you reduce fire hazards by cleaning, inspecting, maintaining and repairing your chimneys. For starters, we keep your dryer filter clean to ensure it's working efficiently. Additionally, we inspect your chimney to make sure the structure is stable and also detecting obstructions that could cause a fire. Finally, our repair services can be for both minor and severe damages. From minor brick repair to rebuilding, we provide a full-service for fireplace and chimney efficiency and safety.
Once you have done everything possible to make your home safe for you and your family, you can rest assured everyone is safe. Of course, we always recommend you have a plan of escape in place for your family in case there is a fire or other danger to your home. Please contact your local fire department for tips on developing this type of emergency plan.
I would highly recommend A Noble Sweep. The evaluation and services I received from Mr. Norman, Tim and Joe were thorough, knowledge and courteous.
They took care of the problem very quickly and also they were punctual !
The reps were well versed in what was going on with my fireplace and information about moving forward. They were friendly, polite and courteous.

They contacted me when they were running late, which was appreciated. Thank you.
Very knowledgeable and polite and just - very professional
The workers were prompt, courteous and knowledgeable. Although rain hindered their progress, they finished the job as soon as the weather permitted.
Ian was great. Kept me informed. Was clean. Did good work. Even took pictures of everything. Thanks
Did a good job...very nice guys!!
I had not cleaned my dryer vent in years. After seeing what came out of my vent, I now know why so many dryer vents catch fire each year! It was super easy to schedule, Ioan arrived exactly on schedule, he was very careful moving things in our small laundry room, and he thoroughly cleaned up afterwards. He was polite and courteous and it couldn't have been easier. Thank you and see you in a year! Not waiting too long this time!
Thank you for sending Tim & Joe Joe to our home to clean our dryer vent. They were two of the nicest technicians who have ever come to our home to provide a service. They were polite, thorough, professional and pleasant to work with. They are welcome in our home anytime. Please make them our technicians of record for any services we may need in the future.
Scheduled service time was met both times. Honest repairs without sales pitch for unneeded parts or repairs. Excellent repair work. I have already recommended A Noble Sweep to others.