Chimney Inspections
We offer a variety of thorough chimney inspection services to improve your chimney efficiency and performance. Our chimney inspections can help you prevent chimney leaks and water penetration into your home, chimney damage and energy waste. Inspections include hearth, floor, grate, firebox, damper, flue connections, flue termination, crown (if applicable) and spark arrestor. We check for creosote deposits and any debris from animal nest and/or storm damage.
Chimneys and venting systems should be professionally inspected after changes to a chimney or vent system, a chimney fire or purchasing a home with a chimney.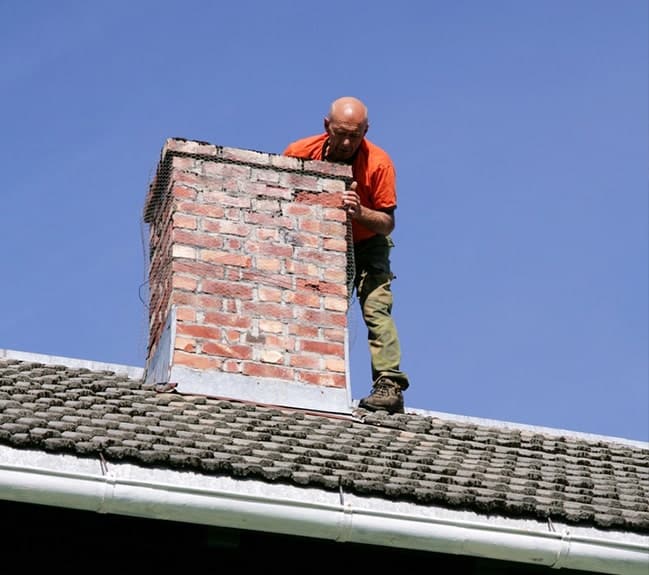 The following should be checked during a chimney inspection:
The chimney should be capped.
Chimney should be protruding a minimum of 3 feet out of the roof and 2 feet higher than any part of the roof within 10 feet of itself.
The crown or chase top should be watertight.
The exterior chimney should be checked for cracks and deteoriation.
The flashing and counter flashing should be examined.
Chimney lining should be checked for creosote buildup, cracks and voids.  If more than 1/4″ of creosote has accumulated, the chimney should be cleaned.
The smoke chamber should be smooth and free of cracks, voids and creosote.
The damper should open smoothly and close tightly.
The firebox should be structurally sound and lined with firebrick.  The mortar joints should be solid and the bricks should not be loose.
The hearth extension should be checked for proper sizing.
Combustible material should be the proper distance from the fireplace.
Factory-built metal chimneys should be checked for disconnected chimney pipes.
Wood framing surrounds most factory-built fireplaces and disconnected or rusted chimney pipes can catch fire.
Once all is checked, and the chimney is cleaned of creosote (if necessary) and you know your fireplace is structurally sound and safe, make sure the damper is locked in the open position and your carbon monoxide detectors are working properly. These detectors generally plug in at the floor level because that's the location where they're most effective in protecting from carbon monoxide fumes.
Don't Know Where to Start?
Contact one of the fireplace insert experts. We are here to help.
Now, sit back and enjoy your fireplace on those cold evenings.