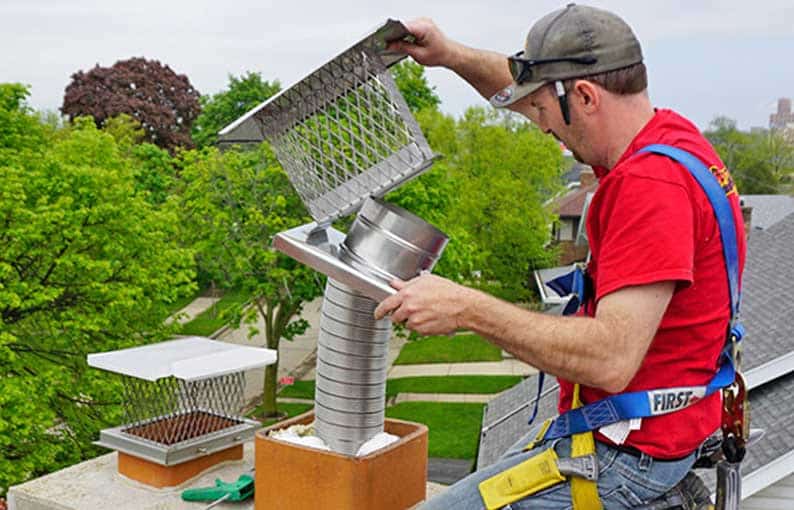 Complete Quality Chimney Service
Your chimney is an important part of your home that's responsible for letting the smoke from your fireplace or wood-burning stove escape into the air outside. It's important to inspect and clean it regularly to avoid any future problems.
Luckily, we provide reliable solutions for your search for chimney services near me and help you keep your fireplace clean and safe. Here are some of the services we offer.
Chimney Repairs and Installation
Have you noticed that your chimney isn't as efficient as it used to be? This maybe a sign that it's time for a chimney repair or a new chimney installation.
Some signs of a damaged fireplace include missing bricks, cracks in your masonry, or water leaks. If you notice any of these signals, get in touch with our chimney professionals for help.
We offer chimney repair services such as spot cutting, rebuilding, masonry, relining, flashing and re-flashing, and waterproofing.
Chimney Inspections
Your home's chimney needs to be inspected regularly for safe use. For example, a cleanout door can become clogged with ash and debris, causing a potentially dangerous situation if not remedied.
It's also important to inspect your chimney for leaks, as they can cause damage inside your home as well as outside on your roof. Do you suspect that your fireplace is leaking? Or maybe you just want to check it out. Contact our experts for high-quality services at an affordable price.
Chimney Cleaning Services
A clogged chimney is a problem no one wants to deal with. Apart from posing a serious fire hazard, it can also cause an increase in your heating bills. The only way to avoid these problems is to schedule a regular chimney cleaning.
Is Your Chimney Damaged?
Maintaining your chimney is as important as maintaining any other part of your home. Not only does it help keep you and your family safe, but it can also help you save money on heating and electricity bills.
At A Noble Sweep Chimney Services, we've been providing professional chimney installation, repair, and cleaning services to customers throughout the Greater New Orleans area. Contact us today for all your chimney solutions.