You may have noticed, if you are in the market to buy a new gas fireplace, that you can choose between vented or ventless fireplaces. Although they look similar, they have a lot of differences. You will save time if you know in advance what you need.
We examine the pros and cons of owning a vented gas fireplace vs a ventless gas fireplace.
What is a gas fireplace?
Gas fireplaces produce flames that are powered by propane or natural gas. They can be used to heat an area and also as a decorative element in the room.
These systems are a great replacement for a wood-burning fireplace. Although real wood fireplaces are appreciated for their nostalgic scent and cozy appeal, they are not the most effective heat source.
Can I convert my wood burning fireplace to gas?
Gas logs and vented inserts are available for existing wood-burning fireplaces. They can be installed if you want to enjoy the benefits of gas without having to install a separate gas system. Inserts slide into the firebox and are encased in metal frames, while logs can be installed individually. Both are easier to install, but both require electrical and gas lines.
Advantages of a gas fireplace
Gas fireplaces or fireboxes are the best option for those who desire a realistic-looking flame. There are many gas log sets available that look like real wood and have beautiful flames. They also provide excellent heat output.
Gas fireplace units are convenient and easy to use. With minimal maintenance you can enjoy your fireplace without worrying. No ash to clean, no wood needed to be chopped and no chimney required to be cleaned. You only need a gas supply to have a fire.
One of the other advantages of a gas fireplace over a wood-burning one is efficiency. The fuel energy conversion is 75% – 99% for a gas fireplace versus 10% – 30% for wood-burning fireplaces.
Safety is another appeal. There's less risk that your fireplace will ignite your possessions or cause a fire in your home because there is no uncontrolled burning.
How does a ventless gas fireplace work?
Ventless gas fireplaces are becoming quite popular as they are simple to operate and clean. They are also called vent-free or unvented fireplaces. They use propane or natural gas as a fuel source. The fuel flows into a gas burner that is mounted inside the fireplace.
A ventless fireplace pulls air from the room and channels it through the regulator to create the flame. The warm air is then pushed back into the room through an outlet typically located at the top of the fireplace. When lit, the flames go through spaces in artificial ceramic fiber "logs". This gives off the look and feel of a real fireplace.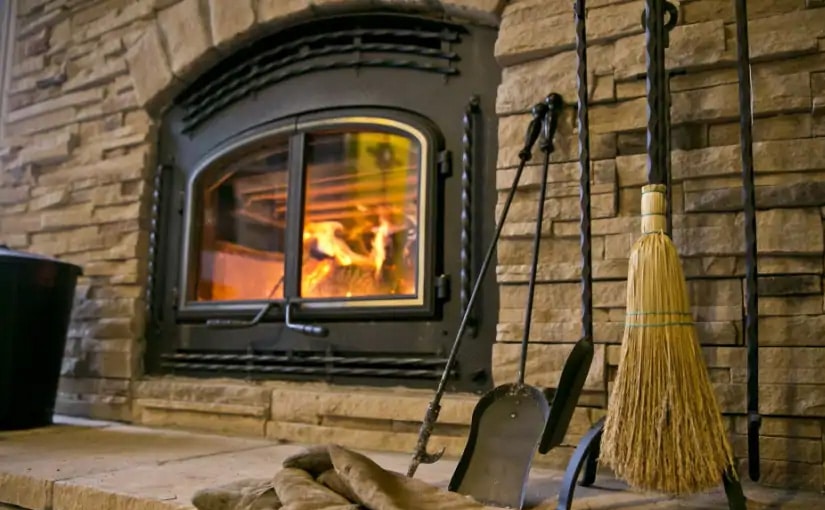 Are Ventless Gas Fireplaces Safe?
According to the National Association of Certified Home Inspectors (NACHI), although ventless gas fireplaces burn at nearly 100% efficiency, and are tested to operate at a safe level of cycling combusted gases into the home, very small amounts of fumes and vapors still remain. The cleaner gas-burning method can increase the possibility of mold and mildew because water vapor is created.
Ventless gas fireplaces are therefore not recommended for people with respiratory problems. To combat these risks, built-in carbon monoxide and oxygen detectors will shut down the fireplace automatically if there are unsafe levels in your home.
It is worth noting that some states have restrictions or specific code requirements that may also limit ventless options.
Vented vs ventless gas fireplaces
There are two types of gas fireplaces: vented or ventless. Ventilated gas fireplaces emit carbon monoxide, so you need a chimney and flue for your fireplace. Ventless fireplaces don't have these emissions, so a chimney or flue are not needed. The heat will also stay inside your home. Gas logs are required for each type of fireplace to ensure that it is safe and correct. Find out more below.
Vented log sets
Vented gas logs are perfect for those who love the feel and look of a wood-burning fireplace. These sets can be fitted into an existing fireplace and are perfect for homeowners looking for a more efficient alternative to a wood-burning fire.
Like a wood-burning fireplace, vented gas logs emit carbon monoxide. To operate, they need a flue or chimney. To ensure proper ventilation, you must open the damper every time you use your fireplace. If you don't have an existing flue or chimney, ventless gas logs may be the better option for you.
As they need a chimney to work, some heat generated will escape your home. Vented logs are less efficient, due to their high fuel consumption. However, they are more efficient than wood-burning fireplaces.
The appearance of vented logs is a huge attraction. Ventless gas logs do not have a realistic flame, so vented logs are more appealing to those who don't want to give up the look and feel of their wood-burning fire. They are available in a variety of finishes to match your home's style. The possibilities are endless, from traditional oak to stylish birch.
It is important to have your vented gas fireplace serviced by a technician once a year to ensure your safety and that your logs are performing their jobs.
Can vented gas logs be used to heat a room?
Vented log sets can help heat a room, but are not usually the only source of heat. It also depends on the room's size. Logs can heat up a small space but it may take some time for a larger room to heat due to heat loss through the chimney.
Bottom line on vented log sets: Vented logs are perfect if you prefer ambience to efficiency or you already have a wood-burning fireplace you'd like to convert to a gas one.
Ventless Log Sets
You may choose a ventless gas log set if you want to add an efficient, supplemental heat source to your house. These logs don't require a flue or chimney to work, so they can keep more heat in your home. Ventless logs produce more heat than vented ones, making them much more efficient.
You sacrifice appearance for efficiency. Ventless sets do not have flames that look as realistic and aesthetically pleasing. Ventless gas logs that are just as beautiful as vented logs are available. They come in a variety of finishes, including Whiskey river and Sassafras.
Ventless gas logs, in addition to being more energy efficient, are also cheaper. You only need a gas pipe to make your home warmer and more comfortable.
It's just as important to maintain and operate your ventless gas fireplace correctly and safely, just like you would with any other gas appliance. As they produce gas, and have nowhere to vent it, you should follow the instructions. Don't run the unit longer than is recommended. You should also have your ventless gas firebox serviced annually.
Is it safe to use ventless gas fireplaces?
Ventless fireplaces do not use a flue or chimney, so the gases produced by them have no place to go. Ventless fireplaces are equipped with oxygen depletion detectors that shut the unit off if oxygen levels reach an unsafe level. These units should not be run for extended periods. If the unit is running for more than an hour, it's recommended to open a window or door.
Bottom line on ventless log sets: Ventless gas logs are ideal for homeowners that value efficiency above ambience. These logs are also perfect for homeowners who want a secondary source of heat rather than a primary one.
Can you use ventless gas logs in a vented fireplace?
Ventless logs can be used in a vented fireplace. Ventless logs do not require you to open the damper, so you can use them without opening it. Although the chimney can be closed, this type of log set will reduce the heat and efficiency of a vented fire.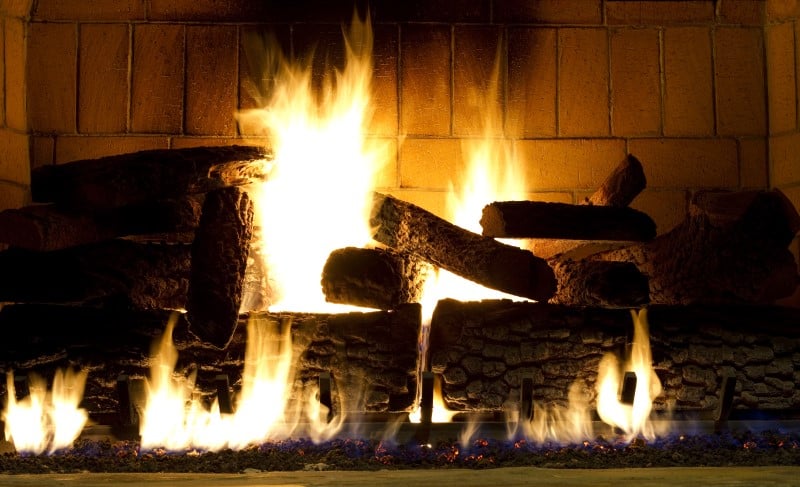 Vented vs ventless: which is better?
Vented fireplace key points
Here is a quick list of the advantages and disadvantages of a vented gas fireplace.
Advantages:
look and feel of a wood-burning fireplace

any harmful byproducts will be vented outside the home

can be the cheaper option if you already have a chimney
Disadvantages:
much less efficient than unvented fireplaces

generally more expensive because you need a chimney or flue

requires more maintenance than the ventless alternative
Ventless fireplace key points
Here is a quick list of the advantages and disadvantages of a ventless gas fireplace.
Advantages:
more efficient heat since all the heat produced stays in the home

they generally cost less to install, compared to the vented alternative

automatically shuts off if oxygen drops to an unsafe level in the room
Disadvantages:
less aesthetically pleasing due to the blue flame

cause humidity in the room which can lead to issues

ventless fireplaces will always produce an odor

states restrict or ban their installation due to safety concerns
Vented vs ventless fireplace recap
Which is better when it comes to a vented vs ventless gas fireplace? It all depends on you. Ventless gas fireplaces are more energy efficient. Vented gas fireplaces, however, can be installed in existing wood-burning fireplaces and have a more realistic feel.
Gas fireplaces are a wonderful alternative for homeowners who want a source of heat that is also beautiful. Regardless of which way you decide to go, we would love to help with your new gas fireplace.
Looking around you, you will discover how much paint, corrosion, and dirt exists, needing the fastest method to remove and restore buildings. Currently, the most sought-after paint removal system is dustless blasting.
The technique does it fast and in minutes, leaving your facility fresh and sparkling clean. If you are in New Orleans, you might need this service. Yet you need to know which is genuine and of high quality.
Let's explore some ways you can find the most suitable dustless blasting New Orleans contractor near me.
1. Check to See If the Dustless Blasting New Orleans Contractor Has the Right Equipment
Dustless blasting is a highly delicate job. So ensure your dustless blasting new Orleans contractor possesses the latest and most advanced dustless blasting equipment to complete the paint/ dirt removal task.
The state-of-the-art tool should also have a highly trained operator team to handle the entire surface paint removal process. Again, always negotiate for more because faulty equipment or craftsmanship can compromise work quality and weaken your structure.
2. Consider Only Excellent Customer Support
A contractor's warmth and willingness to listen to your needs imply one thing. They are likely to perform quality work. Before hiring and commissioning, ask only the right questions and gauge the answers. For example, ask about their experience and how satisfying their previous work has been. Also, inquire about the time frame within which to complete the job.
3. See if They Work Within Your Budget
Your dustless blasting New Orleans contractor should inspect the work and give you a free estimate without any hidden charges. A quote enables you to determine if you can afford it. Will the contractor allow further negotiations? If you need help, keep looking until you find the right fit for your project.
4. Sneak-peak on Their Customer Feedback
It's easy to see how reputable your potentially dustless blasting New Orleans contractor is. Customer feedback is your best available tool to learn how a contractor performs. You can get this information from the internet or from people this company has worked for previously.
Conclusion
Dustless blasting is a highly effective paint and dirt removal system. However, it requires a knowledgeable contractor to handle the project. You must gauge how professional and reputable your contractor is.
Contact us for more information regarding dustless blasting New Orleans contractors.
Whether you are a shipyard owner or a private boat owner, dustless blasting marine paint removal is an essential part of keeping your vessel in good condition. One common technique used for effective and efficient paint removal is dustless blasting.
Dustless blasting is a process that utilizes pressurized water mixed with media particles to remove layers of paint from the surface of your vessel. This article covers special considerations that you need to know when doing dustless blasting marine paint removal.
Let's jump into it:
Before dustless blasting on your vessel, performing adequate surface preparation is essential. That involves removing any large pieces of debris or crusted-on materials that could clog the blast nozzle and interfere with the results.
Additionally, remove all the existing coatings before beginning dustless blasting. The old coating typically interferes with the new one once applied. It may also be necessary to use a specialized degreaser to remove oil or other contaminants from the surface before blasting.
Protective Gear for Dustless Blasting Marine Paint Removal
Dustless blasting for marine paint removal produces dangerously high noise and particulate matter that can be hazardous when inhaled or comes into contact with skin, eyes, or ears.
Therefore, wear proper protective gear while operating the blaster and during cleanup after completing the job. Personal protective equipment involves eyewear, ear plugs or muffs, respirators/masks, face shields, coveralls, gloves, and safety boots designed for wet environments.
The type of blasting media used in dustless blasting affects the effectiveness of marine paint removal. Different types of media produce different results depending on their size and hardness.
When choosing a blasting media for your project, consult an expert to help you determine which type would work best, given your specific needs and requirements.
Fastest, Easiest Way to Remove Marine Paint
Dustless blasting marine paint removal is a revolutionary way to remove paint from your boat. It's fast, efficient, and environmentally friendly. Dustless Blasting is the answer if you're looking for a quick and easy method to remove paint from your boat. Give us a call today; we will be happy to help.
Graffiti is a nuisance to many businesses since it can interfere with, negatively impact your brand, and lower the value of your property. Once you notice any unsightly scrawling and drawing, the top priority is to remove it.
But graffiti removal can be challenging, and you require the most advanced and effective method to scrape it off as soon as possible. Some people opt for dry sandblasting and scraping. But they are painfully slow. Dustless blasting graffiti removal techniques are fast, safe, and don't cause environmental harm.
3 Reasons to Quickly Remove Graffiti Using Dustless Blasting Graffiti Removal System
There are several reasons why you should remove graffiti from your business as soon as it appears. For example:
1. Graffiti Removal Eliminates Crime in Your Location 
Research states that graffiti sprayed in public spaces is closely associated with petty crime and lawlessness. Once you see it on your premises, the most prudent thing to do is remove them with a Dustless blasting graffiti removal system. It safely and promptly removes all the marks, leaving the surfaces sparkling clean.
2. Graffiti-Free Business Establishment Attracts More Customers
Many people love shopping in a clean, safe environment. You want to save time removing graffiti. Any non/slow removal method can affect how your business performs, as it keeps people away. Dustless blasting graffiti removal does this in minutes and is affordable.
3. Graffiti Can Negatively Affect a Building Structure
Quality paint helps to protect and strengthen the walls and surface of your building. On the contrary, spray paints used for graffiti can begin to weaken the initial exterior coating layer of your structure. It won't effectively protect against elements such as rust, cracks, and water.
Conclusion
Timely graffiti removal can help reduce any long-term costs due to repairs. But it also keeps your business premises clean and valuable, primarily when you use an effective graffiti removal method.
Contact us today for more information regarding the dustless blasting graffiti removal system on your premises.
Dustless Blasting Equipment for Stone and Brickwork Dirt and Paint Removal
If you want to restore your stone or brick house and have it look as good as new, dustless blasting equipment might be your recourse. Although it's a delicate process that requires a highly experienced hand, the system can effectively remove paint from your house's exterior and interior, removing all old coating and dirt.
How Dustless Blasting Equipment Works for Stone and Brickworks
Generally, dustless blasting equipment for stone and brickwork requires a gentle touch not to damage or weaken the stone layout. In this case, we use a dustless wet blasting system that consists of a high-quality water and grit mix, especially on non-porous stonework.
But again, depending on how delicate your structure is, you can opt for dry blasting. Some of the buildings consist of atmospheric particles requiring the use of dry blasting instead of wet. Even houses with carbonization matter do well with dry blasting.
Regardless of the method, we closely monitor the pressure of the force, ensuring no damage to the stones. Instead, the machine only blasts away the dirt and coating.
Ideal Abrasive Material for Stonework
Unlike other surfaces that can apply just about any media, stonework requires finer abrasives. We usually use finely crushed glass, garnet, or glass beads. Suitable soda lime in crushed glass and glass beads ensures an even finish on the stone surface. Garnet is a natural mineral perfect for stonework paint and dirt removal and doesn't leave any embedment in your structure.
Conclusion
It's now easy to bring your property back to its original glory with dustless blasting equipment. Our machines are portable and designed for delicate surface cleaning. They can seamlessly handle buildings with sandstone, granite, and limestone.
Contact us for more information regarding dustless blasting equipment for your stone/ brick house.
Dustless Blasting New Orleans: Five Surfaces It Cleans
Dustless blasting is used for removing paint from your equipment, in New Orleans. It is the quickest way to prepare your automobile for re-coating. Dustless blasting is an innovative way to strip paint and clean your walls. You can also strip paint from equipment and any surface. It does this without creating a huge trail of dust. Some of the other ways this restoration method is used are listed below:
Dustless Blasting New Orleans – Automotive Paint Removal
This is the newest way to restore your automobile. You can use it for paint, primer, and body filler. Dustless blasting New Orleans is also a recommended substitute for sanding and scraping, which will scratch and dull your metal. It will protect your car from blisters. Blisters often form under finished paint when you use chemicals. Dustless blasting will leave a clean metal surface in preparation for the primer.
Brick and Stone Restoration
Dustless blasting is very effective in restoring brick and stone. It is recommended for walls that have damp issues. You can sandblast your house to remove the previous paint. This prepares it for repainting.
Dustless Blasting New Orleans: Perfect for Graffiti Removal
The vandalization of street corners with nasty comments or art is somewhat common. Removing this graffiti is paramount. The environmentally friendly process is a great way to keep the surroundings clean.
Furniture and wood restoration
Paint and plaster stains on furniture or wood can be stubborn to remove. Dustless blasting will ensure that you get a smooth and clean look.
Boat and marine maintenance
You can use dust blasting on fiberglass yachts. You can remove the current paint and prepare it for repainting. There will be no dust or damage, and your yacht will have a new look. It can also clean the marine growth on your boat or yacht in record time.
If you live in New Orleans, "A Noble Sweep" can do the removal of paint jobs and everything else that has to do with house cleaning. The best way to clean your surfaces is by using dustless blasting. It is the quickest and most affordable way to get the job done.
Many water vessels, including boats and ships, have layers of hardened paints and coatings. Removing them at once with the usual sanding and scraping can be tricky and time-consuming. Only advanced methods, such as Dustless Blasting Marine Paint Removal, can do the job quickly. The technique also leaves the vessels in pristine condition. Here is why this paint-stripping technique is timely.
1. Dustless Blasting Marine Paint Removal System Effortlessly Removes Coating from Many Water-based Surfaces
Anti-fouling paint from some old vessels, including ships, yachts, and marine growth can be some of the most challenging substances to remove.
Some of them might have grown paint blisters within the fiberglass that require peeling it up for repair.
Problematic marine growth also needs ingenious ways to get rid of it, and only Dustless Blasting does it quickly and leaves the surface smooth and clean.
2. The Paint Stripping System Is Environmentally Friendly 
Marine safety is top of the agenda for eco-friendly efforts. The dustless blasting marine paint removal process works without producing a plume of dust that might pollute the water and poison the plants and aquatic animals.
3. Dustless Blasting Marine Paint Removal Does the Job Quickly
Time is money, and you don't have to waste much of it on complex coat surfaces like those within the marine.
Dustless Blasting Marine Paint Removal machine reduces any back-breaking labor and time you would spend using methods such as sand drying and scaping.
Most DIY paint stripping methods are not sustainable. But the Dustless Blasting Marine Paint Removal tool is thorough and ensures nothing of the original old paint remains.
Conclusion 
A marine is a sensitive place to strip off hardened paint and marine growth. Only an easy marine maintenance technique such as the Dustless Blasting Marine Paint Removal does a clean job without polluting the water.
Contact us for more information regarding the Dustless Blasting Marine Paint Removal system.
Dustless Blasting Equipment: The Most Convenient Paint Stripping Tool for Surfaces
Any surface preparation can be hectic, mainly when they consist of old paint or coating. Dustless blasting equipment is a piece of timely paint-stripping machinery that requires less containment and can safely blast in an open environment even when other projects are in the vicinity. The equipment produces less dust hence less contamination but more visibility and safety for the working team.
 What Is Dustless Blasting 
Dustless blasting is a paint-stripping technique used on a wide range of surfaces. The procedure uses a blast tanker to mix water and an abrasive media to form a powerful agent that suppresses enormous amounts of dust from the work area as the machine picks pace, going at high speed.
How Dustless Blasting Equipment Works
Dustless blasting equipment consists of a wet dustless blasting system that runs on a CFM (Cubic Feet Per Minute) compressor. Experts recommend a minimum of 256 CFM, but there are bigger sizes with equally large nozzles that work at extremely high pressure.
The process requires the mixing of water and abrasives within a blast tank. The abrasive media can be recycled glass or garnet, whose combination with water helps suppress the dust as the machine's power hits the surface.
The blasting technique has water producing more mass with little abrasive fine media, enabling an efficient shedding off any stubborn paint/coat substances.
Dustless Blasting Equipment Uses
There are several uses for dustless blasting equipment, including:
Removing graffiti: the equipment comes in handy, effortlessly removing any unsightly scrawl and drawings from your walls and surfaces.
Removing high-strength paint and coatings: dustless blasting equipment is especially useful in eliminating hardy coats found on industrial equipment and similar surfaces.
Removes corrosion. Rusty and corrosive surfaces wash off seamlessly when it comes to dustless blasting. The conventional sanding and grinding would take hours, but this technique takes minutes to blow away any signs of weathering.
Conclusion
Dustless blasting is all you need to help clean up old paintings and undesirable drawings on your surface. The system is quicker and more efficient than scraping or sanding.
Do not hesitate to contact us for more information regarding dustless blasting equipment.
Installing gas logs in your home creates a lovely, cozy atmosphere. They are also easy to install. Anyone with even the most basic DIY skills can do it. The tricky part is finding the right company to do the job for you. There are so many different gas log installation companies out there, and it can be confusing to determine which one is best for you.
To help you choose wisely, we have put together some helpful tips for choosing the best gas logs installation company.
1. Vent Types
When it comes to gas log installation, you can either have systems with a vent or those without. Vented log sets need a functional wood fireplace. This works with a chimney for letting out heat, smoke, and exhaust. A vent-free set needs a specific fireplace with a blue flame. You need to follow the building code for your locality. Some cities do not allow the use of vent-free systems.
2. The Fuel Type of Your Gas Log Installation Matters
Gas logs use propane or natural gas as a source of fuel. Is your home connected to a natural gas line? If not, you can choose other fuel types.
3. Gas Log Size
How large is your fireplace? Overly large logs can lead to overheating and may destroy your firebox and gas valves. Get specific measurements and talk to the manufacturer of the product of your choice.
4. Flame control
You can light the pilot by reaching into the fireplace to turn on the control knob. Some valves use a remote control that allows you to switch the pilot on or off without making contact with the fireplace.
One of the advantages of choosing the expert-recommended gas log installation plan is the freedom to set the mood in your home without danger or damage. This is why these tips will help you in your decision-making. If you are looking for a fireplace or gas log set in New Orleans, "A Noble Sweep" can help you find the best solutions possible.
When you're ready to hire a fireplace contractor, there are some key aspects that you should keep in mind. First, you will get multiple quotes with different price ranges. Before settling on a particular fireplace contractor, you should ensure that the contractor is appropriately licensed and insured.
To know the best-certified fireplace contractor, ask for references from previous clients. Finally, please read the contract carefully before signing it, and don't be afraid to negotiate the price.
How Much Does It Cost to Hire a Fireplace Contractor in New Orleans?
The cost of hiring a fireplace contractor in the New Orleans area varies depending on the size and scope of the project.
For a simple job, such as installing the gas insert, the contractor may charge an hourly rate plus the cost of materials. For larger projects, such as building a new fireplace, the contractor may charge only a flat fee or a percentage of the total project cost.
The best way to get an accurate estimate is to contact a reputable contractor and get bids for the work. Be sure to ask about discounts available for seniors or veterans. With some research and planning, it's possible to find a reputable contractor who will complete the job within budget.
Factors That Can Affect the Cost of Hiring a Fireplace Contractor
Several factors may affect the cost of hiring a fireplace contractor. The first is the size of the fireplace. An enormous fireplace requires more labor and materials and thus will be more expensive to build.
The second factor is the type of bricks or stones used. Some materials are more expensive, which will impact the overall cost.
The fireplace location also affects the cost of hiring a fireplace contractor. If it's in a difficult-to-reach place, it will be more expensive to build. Additionally, the level of customization desired will also affect the cost. A fireplace customized to the homeowner's specific desires will be more costly than one that is simpler in design.
Hire a Professional Fireplace Contractor
Having a fireplace in your home can be a wonderful thing. However, it requires a significant investment of time and money, and several potential risks are involved. As a result, hiring a professional fireplace contractor is often the best option.
Professional contractors have the experience and expertise necessary to build a safe and efficient fireplace that meets your needs. In addition, they offer real-time advice on how to maintain your fireplace in good working condition. Click here to learn more.
A freestanding gas fireplace is a good option if your home is unsuitable for a brick-wall fireplace and a mortar chimney.
Advantages of a Free Standing Gas Fireplace
Besides being easy to install, contemporary freestanding gas stoves can double as décor while keeping your family warm during cold seasons. Here are four benefits of installing an ultra-modern freestanding gas fireplace in your home.
1. Low Maintenance
Free-standing gas fireplaces have lower maintenance costs than traditional site-built masonry wood-burning stoves. Homeowners spend substantial amounts on annual inspections and regular maintenance on conventional fireboxes and chimneys. But cleaning free-standing gas fireplaces is easy and relatively low cost. More so, you can schedule the task occasionally.
2. Flexible Design
Traditional wood-burning stoves have design limitations. Not every home can have one installed on its wall. However, modern freestanding gas fireplaces offer flexibility in design. Whatever type of house, you can find one that suits your interior space.
3. No Storage Issues
Storing piles of wood for your fireplace can be messy and cumbersome. You need storage you can easily reach when you want to retrieve the timber. Many homeowners install freestanding gas fireplaces because a storage facility is unnecessary. Natural gas companies can supply a metered connection to your home to enable you to use piped LPG or bottled gas, which you do not have to store in your home.
4. Affordability
The price ranges for freestanding gas stoves depend on the design and size of the heating system. At A Noble Sweep Chimney Services, homeowners can shop for small, medium, or large freestanding gas stoves that fit individual budget plans.
Conclusion
A freestanding gas fireplace is easy to install, affordable, adds beauty to your interior space, and renders heat on-demand with no dirt issues. You can shop for a remote-control-compatible model to experience maximum benefits and convenience.
A common feature in most homes right now is the gas fireplace. Yet, most homeowners never think of servicing until something goes wrong.
Technically, gas fireplace logs come built with an oxygen depletion sensor. And because they monitor the overall safety of the appliance, they must be kept in top-notch condition.
An annual investigation and cleaning ensure the logs are not overly sensitive, leading to the entire malfunction of the gas fireplace. Our gas fireplace logs New Orleans technicians often come in handy not just during installation but for maintenance services. We ensure the appliance works consistently without any breakdowns.
What Does a Gas Fireplace Logs New Orleans Maintenance Team Do?
An annual gas fireplace inspection is necessary for it to work without any shutdowns. A professional technician thoroughly checks the appliance for any signs of damage.
Scratches and cracks are the main culprits that cause log malfunction. For any damage, you may need to replace it. Other than that, annual cleaning keeps the logs working safely and efficiently.
You can also DIY to keep your gas fireplace logs in perfect condition before the annual inspection. Here are the basic steps:
Step 1.: Turn off the Pilot Light to Cool
A few hours are enough to ensure the logs are cool and ready for removal. If you are unsure of this initial yet crucial process, call in our gas fireplace logs New Orleans technicians to help you turn the pilot light off. We will also guide you on how to turn it on safely.
Step 2: Carefully Clean the Fireplace Gas Logs
The log cleaning process, although delicate, is relatively straightforward. A soft, damp cloth is perfect for wiping off the soot and dust. Clean the logs carefully to avoid scratches, or else they won't work. Liquid gas fireplace log cleaners do an excellent job. Never use household cleaning agents because they can leave harmful residues which can damage the logs.
Step 3: Clean and Vacuum the Fireplace
You can meticulously vacuum the soot and dust around the gas fireplace with the logs out. Also, clean the burner and the ignition so that you begin a new plate of cleanliness.
Conclusion
DIY maintenance can help keep your gas fireplace logs working. However, you also need a professional technician to diagnose issues not seen by the naked eye and advise you accordingly.
Please get in touch with our gas fireplace logs New Orleans maintenance team for more information regarding gas fireplace logs servicing.