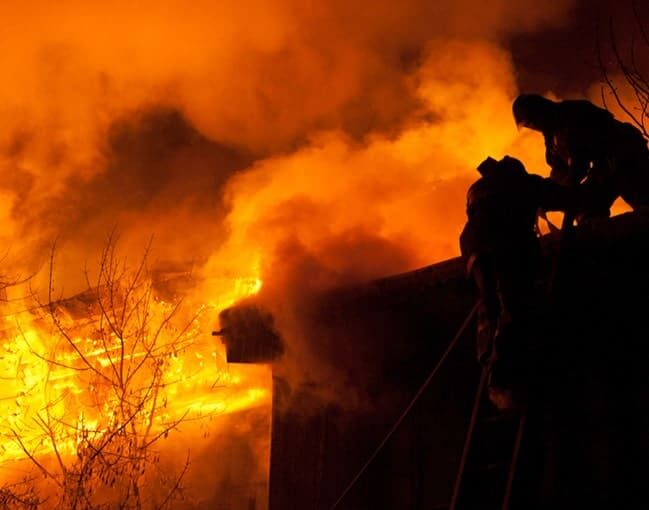 According to the latest statistics provided by The Safety Institute of America (CSIA) there are approximately 25,000 fires every year in the United States that have given way to material loss as well as human loss, thousands of injuries and property damages. There are many reasons why chimney fires are common issues in the US.
Creosote buildup is a major factor in chimney fires ignition, creosote it's a black or brown crusty tar like deposit in your chimney that is highly combustible, this creosote inside the chimney can catch fire really easy that may allow a huge burning.
Types of Chimney Fires
There are two types of chimney fires:
Free Burning
Free Burning fires are often very conspicuous, home occupants will surely notice the flames coming out of the chimney, it produces a sound that is compared to jet aircraft, so your neighbors or people walking around your house may be alarmed by the noise produced from this fire.
Slow Burning
Slow burning fires are very dangerous because the areas where they occur do not vent freely, this allows the fire to become extremely hot. Chimney fires can burn at 2000 degrees F, at these temperatures a lot of damage can be done to the property and to the people inside the property.
How Could you Prevent Chimney Fires?
If you're planning on sitting in front of your fireplace this winter to enjoy a cozy fire and stay warm, you should make sure your chimney is safe. To protect you, your home and your family from chimney fires, here we share with you some of the most common causes of chimney fires and how to prevent them.
Prevent chimney fires with proper maintenance
We all know chimney fires are a huge problem, but the good news is that they're preventable. Chimney inspections and cleanings are a must when it comes to prevent chimney fires. Most of the chimney fires are caused by using a fireplace that is not properly maintained that's the reason why regular chimney cleaning is very important, either by yourself or by a professional. It is also recommendable to have your chimney inspected at least once a year by a certified expert.
Another recommended tip provided by chimney experts it's to burn only seasoned wood or dried out wood, your fireplace will burn cleaner with less chances of creosote buildup that can lead to a fire. Furthermore, never burn things like wrapping paper, boxes, materials like these will only contribute to the buildup in your chimney and increase the chances of a chimney fire out of control.
We hope you find this information helpful, but if you still have questions about chimney fires and how to prevent them give us a call at (504) 612-8135.