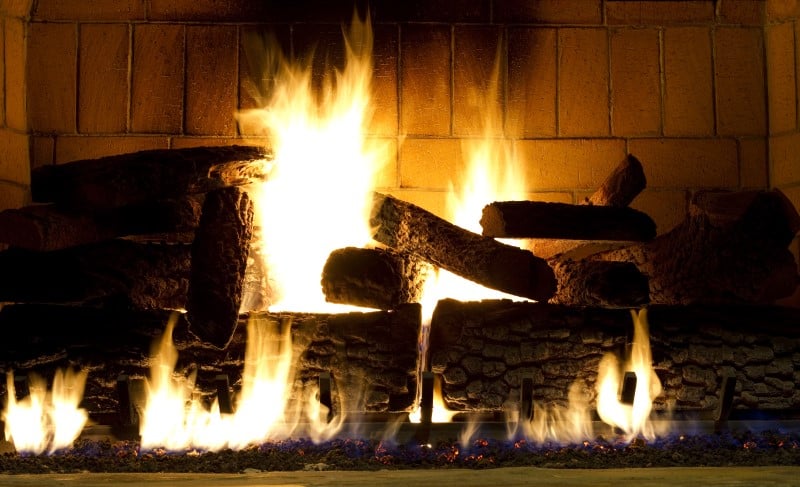 Whether you have a fireplace in your home, you're building a new one or you just need to replace your old gas log set. You will need to determine which type of gas log is best for you and your fireplace. Here you'll learn how to choose the right gas log.
There are two main types of gas logs: vented and ventless. Each one carries unique advantages. To determine what type of gas log you need, first, you need to know what type of fireplace you have. 
If the roof of your firebox (that's where you burn the fire) is flat, totally enclosed or if you have no chimney, you will need to use a vent-free or ventless gas log set. If you have a fully functioning wood-burning fireplace, then you'll be able to go with the vented log and may even be able to use a ventless gas log. 
Now let's go over the benefits of each type of gas log:
Vented Logs
Vented logs are the most popular due to its resemblance to real wood-burning fire with flames curling around the logs and the vent pulls the flames up like a real wood-burning fire. Most people choose vented logs because of their aesthetics. 
Vent Free / Ventless 
Vent-free or ventless gas logs are known for their warmth because there is no chimney to retain the heat, they tend to retain more heat in the room. Ventless gas logs produce more heat than vented gas logs. You should know that ventless sets are specifically engineered to stack up in a precise manner, so the flames don't come in contact with the logs.  
If you're looking for a good heat source, then you should go with ventless gas log sets. if you want ambiance or the look of real fire inside your home, then vented gas log sets would be a better choice for you.
If you're in need of gas log installation, count on A Noble Sweep to get it installed properly.
We hope this information helps you make an accurate choice. If you still have questions on which type of gas log is best for your needs, feel free to give us a call at (504) 612-8141.